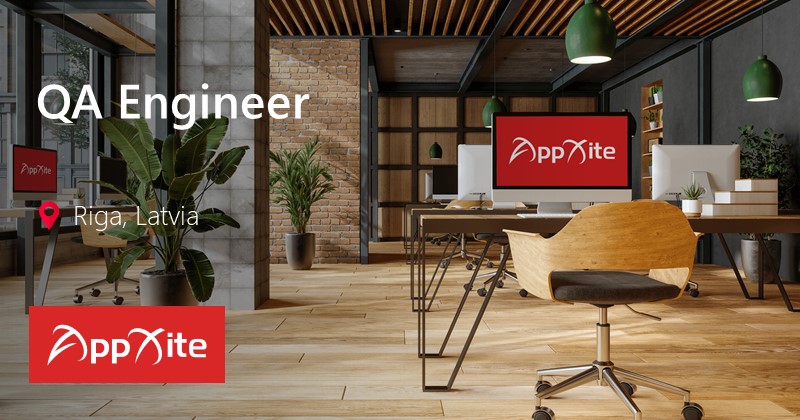 Apraksts

Pamatinformācija

Uzņēmums
About the role:
AppXite is a product IT company, we are changing the way people do commerce. We help modern commerce enterprises operate faster and be more scalable than ever before. We help software companies and their sales channel to transform their business into Cloud subscription and consumption models.

As any other platform-driven company out there, trying to put down an understandable business model in a few lines of text is nearly impossible, but we certainly admire the effort, that's 3 lines of nothing right here.
However, we have been recognized on Forrester's 2021 Tech Stack in channel marketplace and ecosystem management areas. Our specialty is to lower transaction costs throughout the entire customer journey with automation and self-service.

Our offices are in Latvia, Sweden, Ukraine, and Belarus and most of our departments work in distributed teams. As Quality Assurance Engineer (manual), you will be part of a group of talented quality engineers and an integral part of an agile development team. We envision each of our employees as stakeholders, so you will be responsible for driving the collaboration with other members of the engineering team to find the best methods for solving problems and securing the quality and usability of our product.
Our QA should be a person who is very comfortable with search and operate data in SQL, Excel and who knows any finance system like MS, AWS, Google, who likes to work with numbers and who also knows how to create bugs in VSTS, write test cases, want to test a new feature.
Your mission:
Understand and implement effective test strategies with effective test planning, test case designing, test execution.
Work with Product Managers and developers in User Story creation.
Bug/defect reporting, detailing, and investigation.
Should be able to understand the software internals, debug problems using log files.
Searching and operating data in SQL, Excel.
Integration testing (cross-team project testing).
That's you:
2+ years of experience in web testing.
Experience in applying different types and techniques of testing, understanding of features and applications.
Normal knowledge with SQL (can make a simple query with join, grouping).
Experience with finance systems (Billing, Invoicing).
Advanced Excel skills.
Experience in backend testing.
Ability to understand and test complex algorithms.
Ability to effectively communicate, resolve issues, search for alternatives, and provide recommendations.
Excellent interpersonal skills.
Time management and ability to deliver on deadlines.
Good oral and written communication skills.
Fluent in English.
Will be considered as a plus:
Any certifications in software testing, security testing, performance testing, Azure would be highly beneficial.
Knowledge of Azure Devops -> Test management, pipelines, wiki, etc
Why join AppXite?
We work with some of the largest companies in their industries (like Adobe, AWS, Cisco, Google, IBM, Microsoft, Lenovo, etc.).
You will have skilled colleagues in an international environment.
You will have the opportunity to challenge, grow and develop yourself.
We offer professional training (Pluralsight or Coursera license).
We offer professional certifications (ISTQB, Microsoft, Google).
Covered health insurance.
Covered telephone expenses.
Comfortable new office with free parking.
Free lunches and gym.
Employee referral program.
Support for relocation, work permits, and other administrative procedure.
Join the challenge: we grow together!
Tev varētu interesēt arī:
QA Manual Tester

QA Engineer

TEST ENGINEER

ZABBIX SIA
Rīga
€ 2300 – 3300
Beigu termiņš:
10.12.2021